Unleash your inner artist and give Fido a treat with homemade pet toys! Get creative and whip up some DIY fun that'll keep tails waggin'. From tug toys to interactive activities, the possibilities are endless. Not only will you save yourself some money, but there's nothing like seeing your pup light up when they play with something specially crafted just for them. So get crafty. Let's start making that of kind doggy toy masterpiece together!
Get ready to treat your pet family with DIY toy fun! We've got tips and tricks for creating custom toys that will keep both cats and dogs entertained, all while saving you some cash. So let's get crafting. It'll be a sure hit with furry friends alike!
DIY pet toys are a fantastic way to provide hours of entertainment for your pooch! Whether you craft up something like an edible puzzle treats ball or opt for the ever-classic DIY tug toy, these ideas can keep Fido stimulated and engaged while also teaching them valuable skills. Plus – they're reward motivated with plenty of tasty treats thrown in – what pup would resist that? Get creative and have fun building new dog toys at home.
Got a dog with an itch  to chew? Put those old socks, towels and cloth pieces into good use and make them homemade chew toys.
Remove the cap of the water bottle 

Put the water bottle inside the 

long sock 

Tie it at the end of the sock to secure the bottle.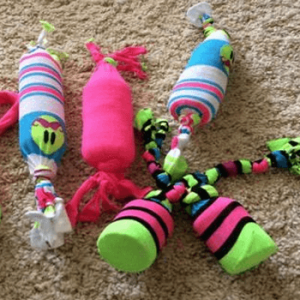 Just keep in mind all the tiny little hazards that could be lurking around: never use any materials small enough for your pup to swallow. After all, you wouldn't want Fido's snack time turning into choke-o'clock!
Muffin Pan is a great game for dogs that will keep them entertained and rewarded. With just 6 muffin baking pans, some treats, and tennis balls you can create this fun game in no time. 
Instructions
Put Treats in each slot of the muffin pan.
Put the Tennis Balls on top of the treats.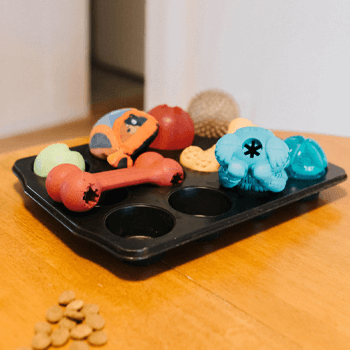 This activity encourages problem-solving skills, as the dog must figure out how to get to their rewards by pushing the tennis ball aside. Not only does Muffin Pan provide your pup with endless entertainment but it's also an excellent way to bond with them while they work hard at getting those tasty treats! So why wait? Get started on creating your own Muffin Pan toy today!
Making a tennis ball toy for your pet is an easy and fun project that can provide hours of entertainment. With just a few simple materials, you can create this rewarding treat-dispensing game in no time. 
Instructions
Cut a one-and-a-half-inch slot in a tennis ball 

Fill it with treats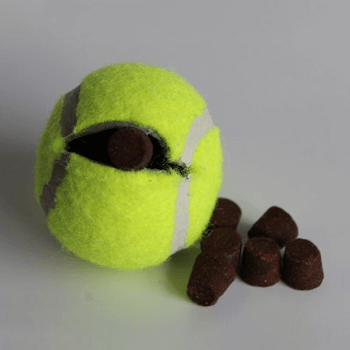 Not only will this be SUPER easy to keep your pet happy and engaged, but it's also the perfect way to show them how much you care about their well-being. So grab some treats and get started on crafting this amazing DIY tennis ball toy today!
Got a pet that needs entertaining? Tug toys are the perfect way to keep 'em busy – plus they're easy and inexpensive to make! Three strips of cloth or rope are all you need for making your tug toy at home. Or why not get creative with an old sock, t-shirt, or another piece of clothing instead?
Instructions
Cut a bunch of strips out of the old t-shirt 2 by 24 inches long.

Tie the strips together at one end.

Separate them into 3 bunches and braid them

Tie the other end.

Make sure the knots are secure so they do not become unraveled.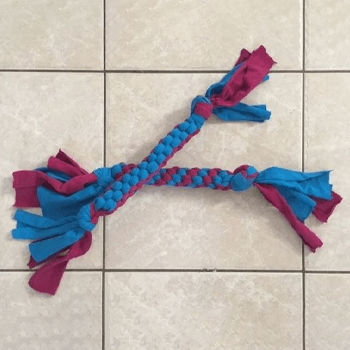 Choking is no joke when it comes to your pup. Be sure that any toys, bones, or chew sticks are larger than the size of a bite – and not just for chomping fun! Even common household items can put Fido at risk if they're small enough to swallow: coins, buttons, pins…you name it. Keeping an eye out helps keep our furry friends safe 'n sound!
This is a fun toy for dogs to play with and get some of their favorite treats.
If you want to make sure your pet is entertained and actively engaged, why not try creating a custom-made interactive toy? You can start relatively simple by making an at-home treat dispenser that'll keep them guessing where their next snack will be coming from
Instructions
Take an empty paper towel roll

Fill it with some of your pet's favorite treats. 

Make sure to seal the end of the roll so the treats don't fall out.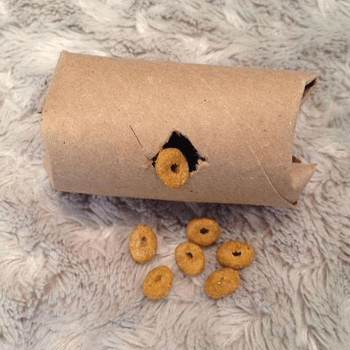 For more of a challenge (and way more fun!), build an obstacle course they have to weave around to claim the prized goody!
These are just a few ideas for do-it-yourself pet toys. With a bit of creativity, you can make all sorts of toys for your pets that will keep them entertained and save you money. Just be sure to use safe materials that won't harm your pet if ingested.
Got a furry feline friend? If you're looking for something unique and special to express your love, why not keep cats entertained with some DIY toys that they can't resist! From chasing feathers and ribbons like an agile hunter to batting around colorful balls of yarn – felines are sure to be captivated by the fun sensory experiences. Unleash their inner tiger today with these homemade playtime ideas!
Making your own wine cork kitty toys is a great way to give your cat something fun and interesting to play with. It is also a good way to reuse! With just a few simple materials, you can make these adorable toys for your furry friend in no time at all.
Instructions
Yo

u will need to make the corks soft by boiling them, 

Make a hole at the end of each cork.

Grab your feathers, pipe cleaners, ribbons, or anything that will catch your cat's attention. 

Dip the ends into epoxy

Insert them into the hole in the cork. 

Make sure to let the corks dry fully before playing with the new toy.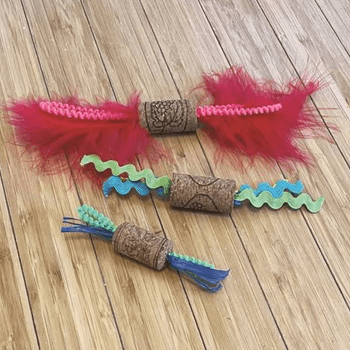 Not only are they easy to make, but they're also affordable and eco-friendly too! So why not get creative and have some fun making unique DIY cat toys? Your feline pal will thank you for it!
Cat puzzles are a great way to keep your cat entertained and engaged. Not only do they provide physical stimulation, but they also help cats stay mentally active as well. With just a few simple materials from the dollar store or around your home, you can create an engaging puzzle for your feline friend that will give them hours of fun! 
Instructions
Get a clear plastic storage container with a lid.

Cut a few holes in the lid, and make the holes big enough for your cat to reach its leg through.

Put cat toys inside and watch the cat try to get them out.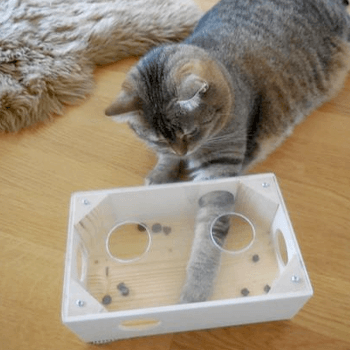 Plus, it's easy to customize the size and difficulty level so even kittens and senior cats can enjoy these brain-teasing activities. So why not treat your furry pal with their homemade cat puzzle today?
Creating a wand toy is an easy and fun project. With just a few simple materials and instructions, you can quickly create your magic wand that will bring joy to your cat's playtime. It is also easily customizable for your pet. 
Instructions
Get your dowel ready

Drill a hole through it about ½ inch from the end (if you don't have a drill you can cut a notch)

Put the elastic string through the hole or around the dowel so it rests in the noches

Tie it to the dowel

On the other end tie feathers, ribbons, or pipe cleaners.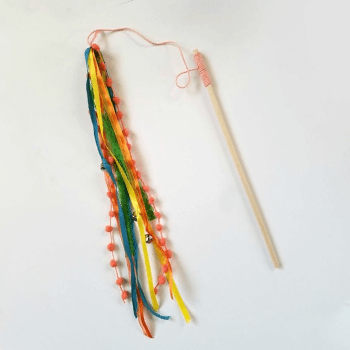 This is the simplest one there is but will keep your cat entertained for days.
Instructions
Get a cardboard box

That's it! If you want you could add extra toys into the box to make it extra special.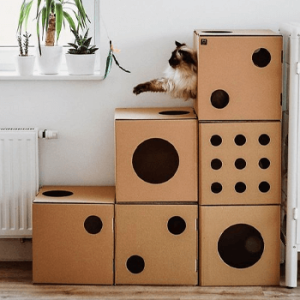 Providing your cat with a cardboard box is an easy and affordable way to keep them entertained. Not only will it provide hours of fun, but you can also add extra toys or treats into the box for added excitement. Plus, this activity doesn't take much time or effort on your part so there's no excuse not to give it a try! Cats love exploring new things and having a special place where they can play during times of boredom makes all the difference. So why not grab some cardboard boxes today and let your feline friend explore?
Conclusion:
Unleash your creativity and get crafty with homemade pet toys! In place of expensive store-bought varieties, you can easily make everything from tug toys to chewies. Interactive puzzle games are a great way to give your fur buddy something new and stimulating – plus it's fun for the whole family! And don't forget about treat dispensers; just fill 'em up with their favorite snacks or kibble for an exciting challenge that will keep them busy for hours. So why not put on some crafting gloves and let the DIY adventure begin?!