Looking for a fun way to celebrate St. Patrick's Day with your furry friend? Here are some ideas to get you started! From festive green treats to photos in front of the shamrock, there are plenty of ways to make this extra holiday special for your pet. And, of course, remember the Irish tunes! Whether you're spending the day at home or out and about, these tips will help make sure your pet has a paw-tactic time.
Have a green-themed pet photoshoot.
Capture memories with your pet in a creative way, and have fun while doing it! If you're looking for an easy way to do something special and memorable, why not plan a green-themed pet photo shoot? Whether you have a sweet pup or a silly kitty, the options are virtually endless. You can go the classic route and don traditional bow ties and ribbons, or embrace the theme and use leaves, plants, or all sorts of nature-inspired outfits, accessories, and props. Show off your pet's unique self in each shot – before you know it, you'll be another proud owner of amazing photographs to share with friends and family. So don't wait – grab that camera and get snap-happy!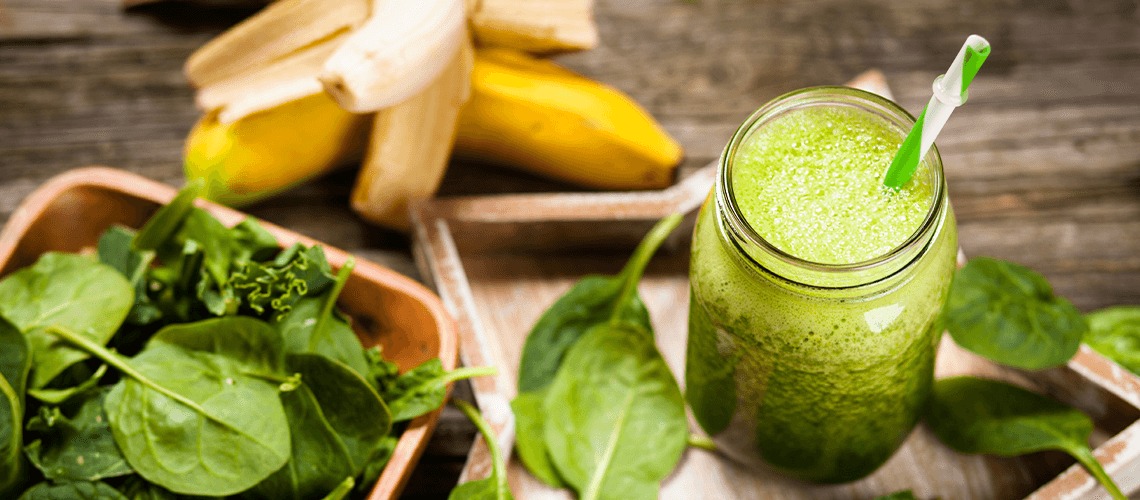 Make your pet a special green treat.
Show your pet you love them this St. Patrick's Day with a special green treat! It's easy to put together and will have them leaping for joy. Start by picking out an organic, dye-free green vegetable like spinach or kale. Depending on the size of your pet, shredded or juiced is best. Use either an electric juicer or a blender + strainer if juicing. Once your juice is ready, get creative with some tasty additions – why not try sliced strawberries, bananas, or peanut butter blended into the mixture? Accompanying it with fruit slices like apple or pear will make this delicious drink even better! Your pet won't resist this yummy and festive concoction you lovingly made just for them!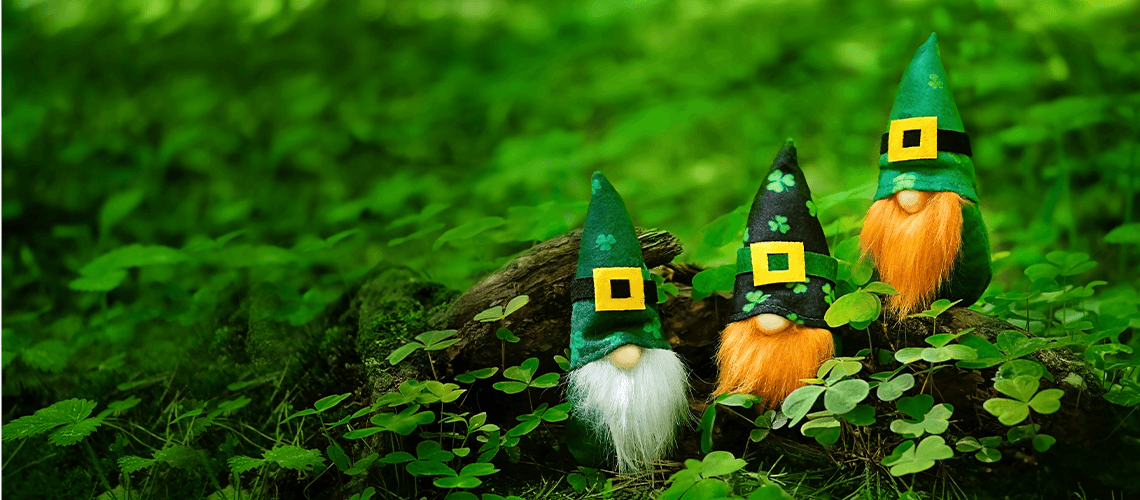 Go on a leprechaun scavenger hunt around the house or neighborhood.
Going on a leprechaun scavenger hunt around the house or neighborhood with Your pet can entertain people of all ages. Start by imagining the Leprechaun's route, where it might have gone, and what mischief it could have caused. Set out with your furry friend to search for clues leading you to where the Leprechaun has been. If searching around your home, look for items in odd places, like your pup's favorite treats or toys! If you are feeling really festive, purchase some new green toys or make your own spinach dog treats! Around your neighborhood, check for treats in dirt piles or toys found tucked away in bushes. Your pup can even use its nose to aid the search! If a lucky find occurs, take a picture with your pet in it! Keep your eyes peeled, have fun, and enjoy this festive activity with your beloved companion.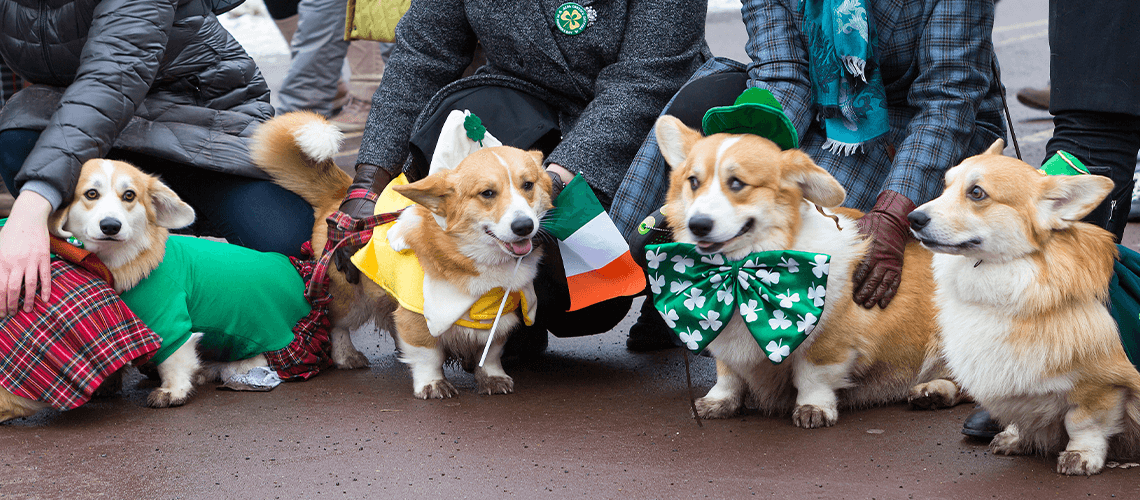 Dress your pet up in green clothes or accessories.
Make sure your beloved pet looks as festive and festive as possible before St. Patrick's Day sneaks up on you. Nothing looks cuter than seeing Fido or Fluffy rocking green paw gear while they trot around the house. If all else fails, nothing adds some excitement better than smearing their favorite food in something jolly like green food coloring for an extra special surprise that will make them feel great about themselves and bring joy to everyone in the room! You can buy pre-made green accessories, like a bowtie or an infinity scarf, that look dashingly handsome and harmless to them. Or else, for a more daring option, you could craft some festive clothing out of a frilly shamrock tank top or scarf for your cat if you're feeling spunky.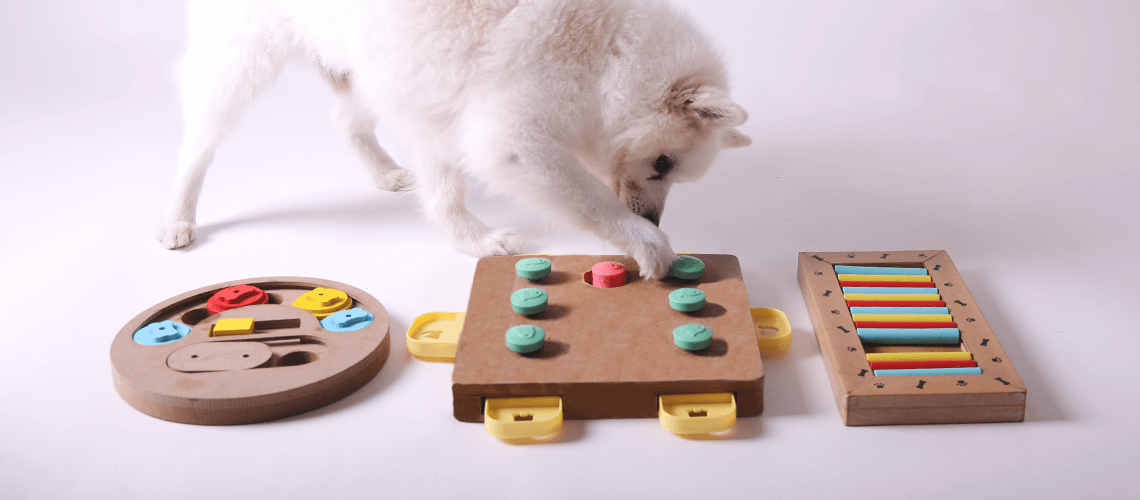 Put together a St. Patrick's Day-themed puzzle.
Why not try fun activities with your furry friend this St. Patrick's Day? Keep them engaged and entertained with cat or dog treat puzzles, shuffle mats, and other interactive toys. You don't have to be an expert in providing them with a fun challenge; you can adjust the difficulty level to their liking. Involve your family members or friends and turn it into a group activity. This is a great way to bring everybody in on the action while celebrating St. Patrick's Day, including your furry friend! Not only do these activities help sharpen your pet's problem-solving skills, but they also provide an excellent opportunity for some quality bonding.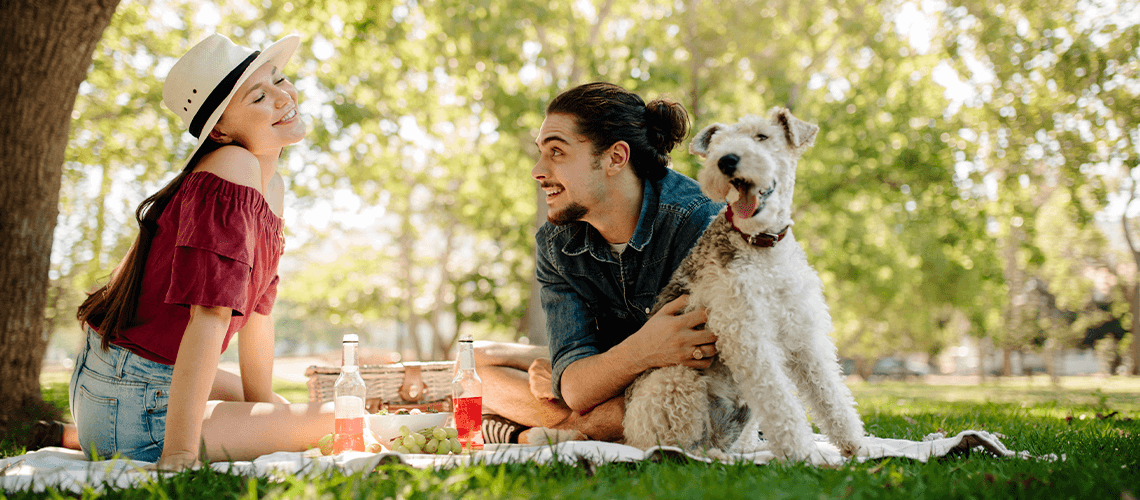 Have a picnic lunch outside with your pet.
Having a picnic lunch outside with your pet can be a great way to spend quality time together. Pack a basket with some of your fur baby's favorite treats, and bring along some blankets or mats so you both can relax comfortably in the sun. Be sure to pick a location that is peaceful and free from distractions, like dogs playing off-leash in the distance. Once you've settled down, take photos of your furry friend chowing down on their lunch surrounded by nature – the options for cute candid shots are endless! As for yourself, set aside this precious bonding time with your pet and enjoy an outdoor meal as you watch an inspiring sunset or listen to birdsong drift over from nearby trees.
Conclusion
Get your pet ready for St. Patrick's Day with these fun activities! From a green-themed pet photo shoot to going on a scavenger hunt, there are plenty of ways to celebrate the Irish holiday with your furry friend.