We all love our furry friends, and what better way to show them how much we care than by spending quality time together on Easter? Here are some fun ways to bond with your furry friend this Easter.
From going for a leisurely walk or hike together to playing some fun games, there are plenty of ways to have a blast while strengthening the bond you share. So get out there and enjoy some quality time with your furry BFF!
Go on an Easter egg hunt together!
Easter egg hunts don't have to be just for the kiddos! Upgrade your pup's playtime with a version of their own. Hide your pup's favorite snacks around the house or yard for your dog to track down. Make sure it's a fair game – if you prefer your puppy doesn't eat from off the ground, hide treats on furniture or shelves at their level. Have fun with it – speaking in fun voices or pointing them toward their treasure if they need help tracking it down can amp up the experience. When they find their reward give lots of positive affirmations and affection, so they know what a clever pup they are! This can be an exciting activity you do together every Easter – your dog will love playing this fun game almost as much as eating yummy snacks!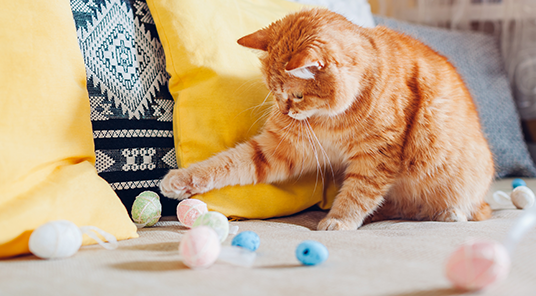 Catnip egg hunt: Fill plastic eggs with catnip or your cat's favorite treats and hide them around the house. Encourage your cat to hunt for the eggs by using their favorite toy or laser pointer to guide them.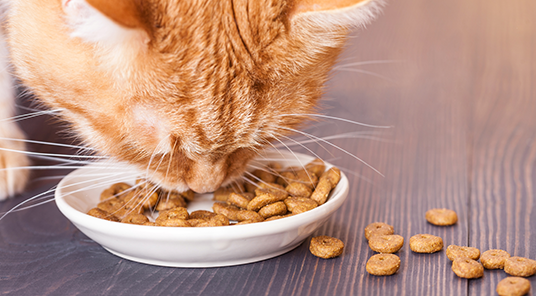 Treat trail: Create a course of treats leading your cat to a larger prize, like a new toy or bed. You can also use goodies to guide your cat through an obstacle course.
Always supervise your cat during playtime and ensure that any treats or toys used are safe and appropriate for their age and size.
Make homemade dog biscuits shaped like Easter eggs or bunnies.
Making homemade treats for your pup has never been so festive! With Easter just approaching, why not make special goodies to celebrate the season? Whether you're crafting cute eggs or bunnies out of wholesome ingredients, it's a great way to spend time with your pooch in the kitchen – plus, you can feel extra good about knowing exactly what's going on in their bellies. Don't forget to get creative with your decorations – pet friendly icing and sprinkles add a fun touch that dogs and humans alike will love. Your pup is sure to feel extra special post-egg hunt!
Just make sure to use pet-safe ingredients such as:
Peanut butter: Most dogs love the taste of peanut butter, which can be an excellent ingredient for making homemade dog treats. Make sure you choose a brand that does not contain xylitol, which can be toxic to dogs.
Pumpkin: Pumpkin is a nutritious ingredient rich in fiber and can help regulate digestion. You can use canned pumpkin puree or fresh pumpkin puree to make treats.
Sweet potato: Sweet potato is another healthy ingredient rich in fiber, vitamins, and minerals. You can bake, boil, or steam sweet potatoes and mash them up to use in your pet treats.
Chicken: Chicken is an excellent source of protein and can be used in homemade dog treats. You can cook the chicken and shred it or use canned chicken.
Salmon: Salmon is a healthy ingredient rich in omega-3 fatty acids, which can help promote healthy skin and coat. You can use canned salmon or bake fresh salmon and break it into small pieces for treats.
Carrots: Carrots are a great source of vitamins and minerals and can be used to add crunch to homemade dog treats. You can grate them or chop them up into small pieces.
Apples: Apples are a healthy ingredient high in fiber and can help clean your dog's teeth. Make sure you remove the seeds and core before using them in treats.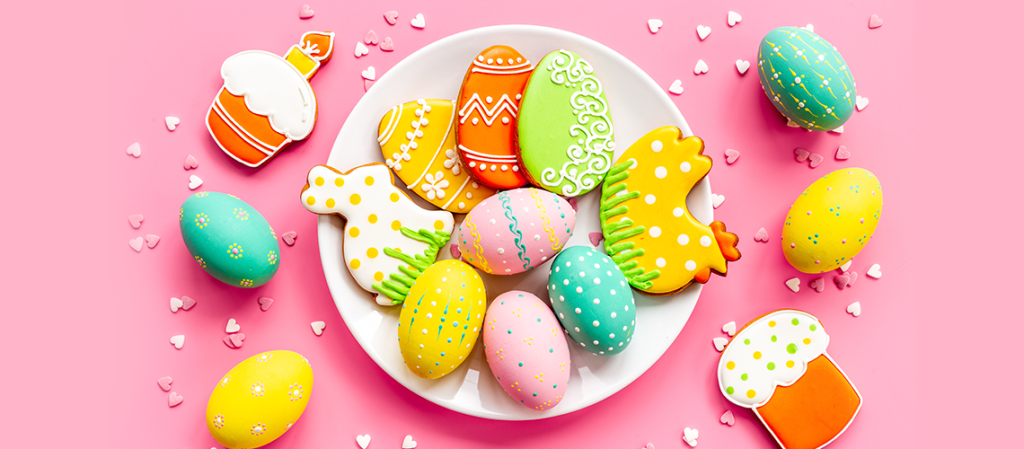 Always check with your veterinarian before introducing new foods into your pet's diet.
Cats love treats as much as dogs do, and making homemade cat treats a great way to show your furry friend some love this Easter. And remember to make homemade treats for your feline friends! Here are some safe cat ingredients:
Tuna or salmon bites: Mix canned tuna or salmon with some egg and flour and bake into small bite-sized pieces. Your cat will love fish's delicious taste and smell, and you'll feel good knowing they're eating wholesome ingredients.
Chicken or turkey jerky: Slice some chicken or turkey into thin strips, and bake in the oven until crispy. These treats are high in protein and low in fat, making them a healthy snack for your kitty.
Catnip cookies: Combine flour, oats, catnip, and some broth, and bake into cute cookie shapes. Your cat will go wild for the catnip, and you'll love watching them play with their new treats.
Cheese bites: Grate some cheese and mix it with flour and water to create a dough. Roll it out, cut it into small pieces, and then bake until crispy. Your cat will love the cheesy taste, and you'll love that it's made with just a few simple ingredients.
Whatever treats you make, offer them in moderation and adjust your cat's regular meals accordingly to avoid overfeeding. Your cat will appreciate your effort in making them something special this Easter!
Have a picnic with your pet. 
Picnics are a great way to enjoy the outdoors with your pup and spend quality time together. Pack for your picnic by including their favorite toys, such as balls or Frisbees, and a few special snacks. Whether going to the beach, a meadow in the countryside, or just your local park, bring special treats and some of your usual food in unbreakable containers. Remember plenty of fresh water. Enjoying the sun and open air will energize you and your pet. Your pet will love all this attention, blazing through new environments and sniffing new places!
If you have a cat or another pet that dislikes going outside, you can have an indoor picnic!
Start by selecting a suitable indoor location, such as a spacious room with plenty of natural light or a screened-in porch. Create a cozy atmosphere by laying out a blanket or towel and adding decorative elements such as pet-safe flowers or plants.
When packing for your indoor picnic, be sure to include your furry friend's favorite toys, such as balls or interactive puzzle games. Also, consider including special treats or snacks for your pet. You can purchase pre-made cat treats or make your own (as discussed above). Pack the treats and any leftover food in unbreakable containers.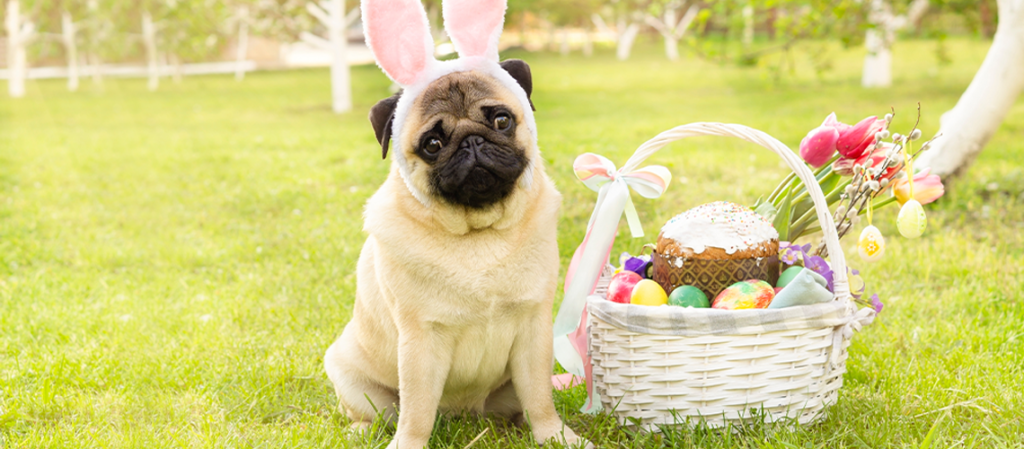 Providing plenty of fresh water for your pet during the indoor picnic is essential. Consider setting up a small water bowl or fountain nearby to hydrate your furry friend. Additionally, be mindful of any potential hazards in the area, such as houseplants or loose cords, and ensure that your pet stays safe and secure throughout the picnic.
During the indoor picnic, play and interact with your pet. Please encourage them to explore their surroundings and provide plenty of opportunities for play and exercise. Consider incorporating some relaxing activities, such as grooming or cuddling, to help your pet unwind and feel more comfortable in their environment.
Overall, an indoor picnic can be a fun and enriching experience for you and your pet. With some preparation and creativity, you can create a special moment of bonding and relaxation.
Go for a long walk or run together, enjoying the spring weather
What better way to relish the crisp spring breeze than to take a stroll or jog with your furry companion? Walking outside is one of the best ways to bask in the warmer climate. Being active can help you maintain your mental and physical health. Going for a walk with your pet can be both stimulating and charming. 
Walking with your pet can also help strengthen your bond with them. You'll notice their tail wagging, and they'll be excited to explore the new sights and smells. You can take this opportunity to train them or practice new tricks while also enjoying their company.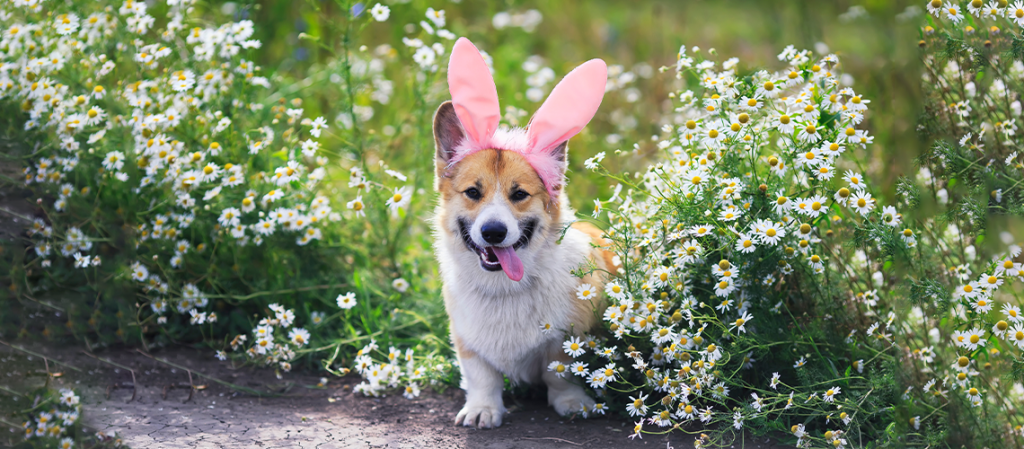 In addition to the physical and mental benefits of walking outdoors, it's also an excellent opportunity to get some much-needed vitamin D. The sun's rays can help boost your immune system. It's also essential for bone health.
Whether you take a leisurely stroll or an invigorating jog, walking with your pet can be a refreshing way to spend time outdoors and a perfect way to enjoy the spring weather.
Play dress up – put a cute bowtie or bandana on your furry friend for a holiday.
Adding a cute bowtie or bandana to your furry friend is the perfect way to take their style up a notch! Show them off at the next holiday gathering and let others admire how dapper your pup (or cat, because no pet should be left out of this fashion movement) looks in it. What kind of bowtie or bandana to get? Picking something that matches the color of your pet's eyes is always a good starting point. Plus, even if it doesn't match exactly, your pet's eyes will still pop wonderfully against the colors. Combining colors like blue and pink can also create great contrast and bring more attention to your trendy companion. So take the plunge, pull out all stops, and give your fur baby a look they deserve this season!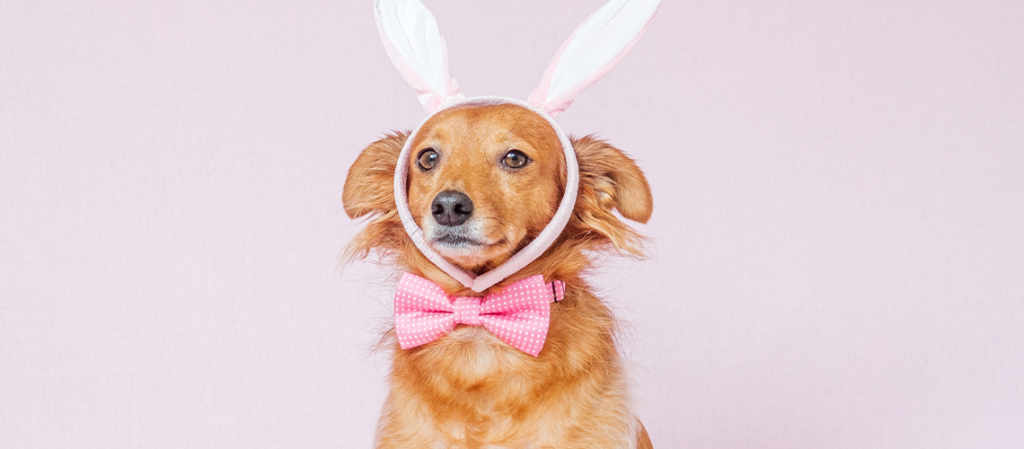 Give your dog a special Easter-themed bath using dog shampoo scented like roses or lavender.
If you're looking for a unique way to spoil your pup on Easter, why not give them an aromatic Easter-themed bath? First, get your dog's favorite kind of shampoo – usually, something that's made for their coat to not bother them. If possible, choose some special dog shampoo scented like roses or lavender. The smell will fill your bathroom, so it's another level of springy pampering, and your pup will smell extra lovely. Keep in mind, though: unless you're using all-natural doggy shampoos with plant-based ingredients and no harsh chemicals, be sure to use the aromatherapy shampoo sparingly; after all, too much of a good thing is terrible right? Now you can pamper Rover with a luxurious wash!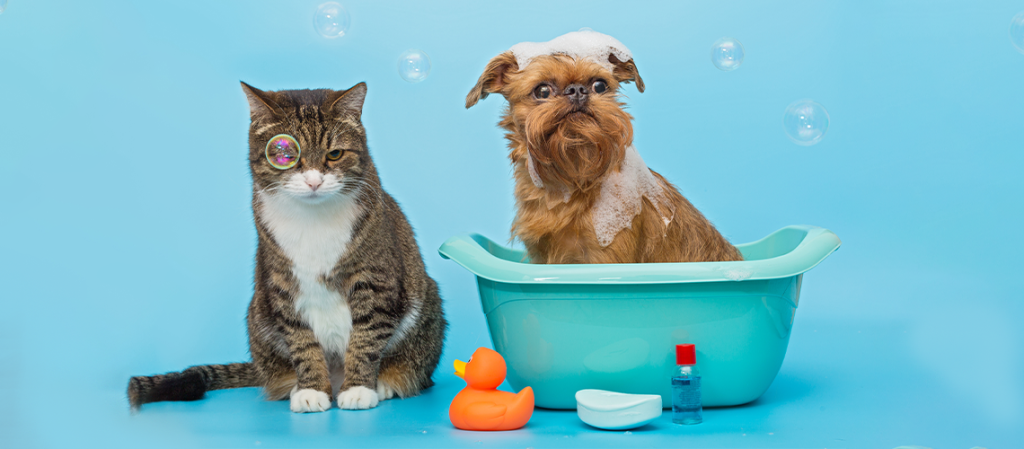 Conclusion
Easter is a time for family, fun, and…pets! With your pet by your side. You can make the holiday special for your furry friend in many ways. From an Easter egg hunt to wearing a festive bandana, your pet will love celebrating with you. And what could be better than spending quality time together in the great outdoors? So get out there and enjoy all the beautiful things spring offers.